CREATINE (Creapure®) 300g
Creapure® is considered to be the purest and best creatine in the world. Improve your athletic performance.
CREATINE 100% Creapure®. Considered the purest and best Creatine in the world.
At Beverly we always strive to provide you with the best quality supplements, always guaranteeing the highest purity in all our products. Therefore, once again, we once again have the prestigious Creapure® patent to offer all our customers the best creatine on the international market.
Creatine plays a critical role in the body's energy metabolism. Creatine is one of the most studied supplements, so its effectiveness has been scientifically proven and it could be, along with protein, the best-known product in the sports sector. Scientists say that creatine in the form of creatine monohydrate is the supplement par excellence to improve muscle strength.
WHY CHOOSE CREATINE 100% Creapure®?
- Creapure® is the most studied and proven form of creatine as safe and effective.
- Creapure® guarantees the highest quality and continuous control through analytics.
- It has IFS and GMP quality certifications. Guaranteeing the best standards in terms of quality, purity and safety.
- It also has the Kosher and Halal certification, making it suitable for the Jewish and Muslim markets.
- Creapure® is suitable for vegetarians and vegans since the materials used for its production are not of animal origin.
FOR WHAT SPORTS IS CREATINE RECOMMENDED AND WHAT BENEFITS DOES IT PROVIDE?
Many people associate this supplement with bodybuilding or fitness, but this incredible supplement is perfect for both strength sports and intensive or explosive sports such as soccer, swimming, athletics and many more.
The intake of 3g of Creatine monohydrate daily has shown that:
- Contributes to increase performance and muscle mass during training.
- Increases physical performance in successive series of short, high-intensity exercises.
- Daily creatine intake may potentiate the effect of resistance training on muscle strength in adults over 55 years of age.
WHY SHOULD I SUPPLEMENT WITH CREATINE?
- Apart from its multiple benefits in athletes, creatine along with moderate exercise helps stop the loss of muscle mass in older people.
- There is scientific evidence confirming that creatine supplementation provides benefits in brain function, improves sleep quality and improves bone health.
- In the case of vegetarians and vegans, the presence of creatine in their muscles is lower compared to people who eat meat.
CREATINE 100% Creapure® 300gr from Beverly:
- Creatine monohydrate with the best patent from Germany Creapure®
Taste: Neutral. 100% pure, no mixtures
300g container (100 services)
HOW TO TAKE CREATINE 100% Creapure®?
Take 3g a day preferably before each workout.
(Official seal Alzchem Creapure Germany 23SP10)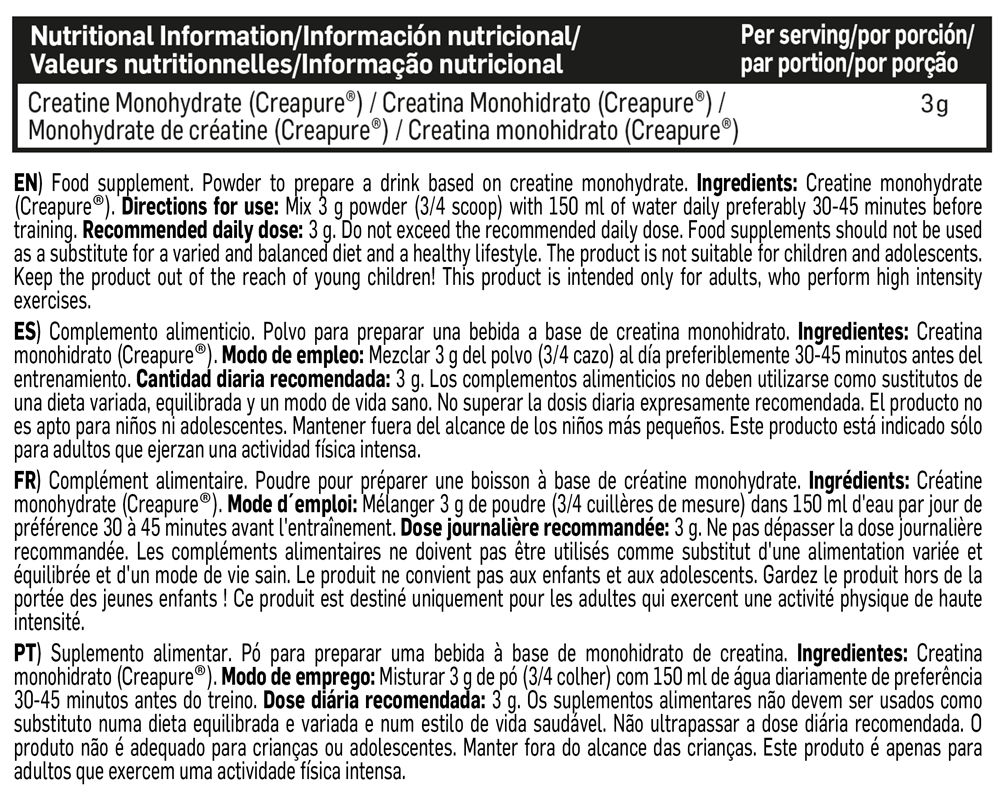 Customers who bought this product also bought: